IT
DOES NOT MOVE
AS YOU
TAP
THE KEYS
A

and different approach to sending morse code
"Finger Tip Tapper"
A
Simple & Clever
Iambic Key
If you can
tap
your fingers on the table
You can
tap
out morse code with the new
"Finger Tip Tapper"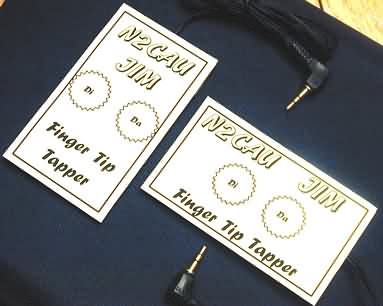 It stays in place with no weighted base
Send effortless smooth and swift
cw
with a light touch
Flat and flexible business card size with a magnetic base,
State of the art tactile contacts, in water resistant clear vinyl
pouch, attached cord with mini 3.5mm stereo plug
Great for backpacking or mobiling
Check out our
Elecraft Personalized Key's
See the inventor
N2CAU
Every key personalized with
Call Letters and First Name
Available in
Vertical or Horizontal
configuration
Availabe is various colors: white, beige, pastel blue, pastel pink, pastel green and pastel yellow
I prefer PayPal for payment, but will also accept:
US Postal Money Orders, Cashier's check or Personal check (will ship after check clears).
Free Shipping.
Send Payment to:
James Panzitta
218 Burholme Dr.
Hamilton, NJ 08691
OR
Pay by Credit Card or PayPal by clicking the link below